The Heaviest of Swells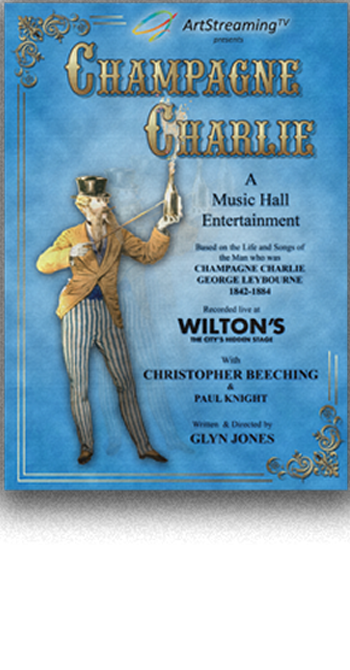 The Music Hall Entertainment Champagne Charlie was created for Christopher Beeching by the playwright and director Glyn Jones. The first performance marked the centenary of the death of the great Lion Comique of the British Music Halls, George Leybourne, creator and singer of the songs Champagne Charlie and The Flying Trapeze, a man who also created many other witty and tuneful songs.
This sparkling performance of the show Champagne Charlie was filmed live in September 2013 before a full house at London's historic Wilton's Music Hall, a venue where Leybourne was a favourite in the 1860's and 70's. Leybourne had a repertoire of over two hundred songs, and during the course of the show Christopher Beeching performs twenty-three of them, wearing reproductions of Leybourne's costumes.
The myriad personas of the stylish entertainer are conveyed. They cover a range of characters: from a rowdy upper class yob, to a heartbroken lover, a bold fisherman, a boxer, a Chinese giant, and a wealthy champagne drinking swell. Leybourne's beginnings in the slums of Gateshead are graphically described, as well as the hardship of a life in the Victorian Music Hall; his meteoric rise in the public's eyes, only to be deceived by fickle fame, ending up exhausted with an early, penniless death. Accompanied by Paul Knight on piano with Antonio Socci and Gary Pulleyn on trumpet and trombone.
Champagne Charlie DVD is available to order from Amazon.co.uk at £9.99.